I have read the disc brake sticky and searched but still had the questions after reading.
Ok guys, I don't have a Chevelle, I have a 1971 Corvette Convertible. My cousin has a 1972 Malibu and wants to put disc brakes on the front. He is going to keep the drums in the rear. We have limited machining equipment, a drill press and just a regular press. His car is a non-power brakes car and I am his family mechanic so he asked me to help him with this project. I've rebuilt my Corvette pretty much from the ground up so I think I know my way around a wrench and 1970's era Chevy's.
I've found a bunch of kits but have a few questions.
Proportional valve - what is a good disc/drums valve to use if it doesn't come in the kit?
Spindles - I see the drum spindles can be modified to accept the disc brackets but I can't find exactly what and were these modifications are needed. Any insight would be helpful if we decided to keep the originals.
Front brake lines - I guess this depends on which kit he buys but what's a good front brake line kit to get. These would be the lines that run along frame etc.
I live about an hour and a half away from him and we would like to get this done over a weekend and with ordering parts we would like to have everything we need when we do it so we can Get Her Done in one session.
Thanks for all your help in advance
Here are the kit's we are looking at:
Right Stuff Detailing kit AFXDC01C Summit Racing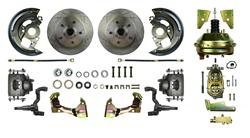 - This is a power brake set but doesn't show the front brake lines that go from the PV to the flex lines. You know the lines that run down to the inner fenders and also across the front cross member to the right front wheel. What lines would I need to make this work or if anyone has used this kit does it come with theses lines or will the stock lines work?
Right Stuff Detailing kit AFXWK01C Summit Racing

- This is the non power brake set again it doesn't show the brake lines described above. Same questions.
Chevelle Front Brake Conversion Stock Spindle Basic - Ecklers Chevelle
- Same Questions